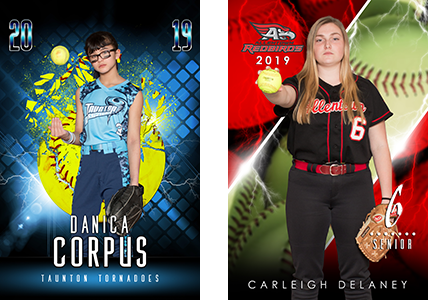 The Elite Softball Program features several of our premium products, Our WideBody Groups™, Game Day Banners, and Metallic Photo Prints, and more.
A WideBody Group™ composite is created by photographing each player individually, then combining them into a group photo along with our stunning graphics. We print WideBody Group™ as a 3′ X 9′ Dugout size banner, as well as 12″ X 36″ Mini Vinyl Banners for players.

Game Day Banners use the individual poses. We add cool graphics and personalize to create a one of a kind banner, celebrating your student. We print our game Day Banners on 13 oz. scrim vinyl, with grommets for easy hanging.
Metallic Photo Prints use the same design and graphics from our Game Day Banners, printed in traditional print sizes. We use Kodak Endura Metallic Paper for a stunning graphic effect.
We take care of the work. We photograph, we design, we print, and we ship. Schedule you teams today.
See more WideBody Group™ styles